Again, Gekkan Shoujo Nozaki-kun aka Monthly Girl's Nozaki-Kun is made by studio called Doga Koboand is based on a manga series of the name name written by Tsubaki Izumi. It was released in 2015.
Along with the box set DVD and Bluray of the series came the OVAs. And after finally buying the Bluray, I got to check these out. And they give me more excuse to talk about Nozaki! Below is the link to the main series review, please check it out!
Gekkan Shoujo Nozaki Anime Review
-Characters-
All of the high school characters from the main show make an appearance in the OVAs. This means no Miyako, Nozaki's precious Ken-san nor the tanuki fetishist. I put link to the main series, please take a look for more in depth character descriptions.
-Story-
The Drama Club is going to the beach for very casual and fun trip, and they can bring guests, aka the whole crew sans Miyako. The OVA is divided into 6 5-minute episodes.
Here we once again realize that not everyone in the show knows each other. The first several episodes are about Waka mistaking Kashima as a guy and Seo's boyfriend. And he does not know what emotion he is feeling.
The second half of the OVA series is actually at the beach, where the crew does fun things. I don't want to spoil too much so I'll end things here.
-the Bad-
I am not too sure why this OVA was split into 6 separate parts. If this was short episode series like Oji-san to Marshmellow or I don't Understand What My Husband is Saying, it would make sense, but I am pretty sure this came out with the Boxed Set. I would have preferred making this 1 average length episode than 6 short ones, as each of them were about 5 minutes each.
-the Good-
What can I say,I am in love with series. This follows the events in the manga from chapter ASD to ASDFASD, and one of my favorite stores from the manga.
The beach episodes are great. And the focus seems to be on Waka more or less. I think that's great as his and Seo's relationship is interesting to watch. The OVA goes through Waka's first time meeting Kashima, his talking to Nozaki and Hori about relationships, and asking Sakura for companionship. And then he gets harassed by girls who think he's cool, so all's good!
Speaking of Seo, she was fantastic in the OVAs. She is her usual unusual self. She decides to buy terrible looking bra Waka accidentally suggested to piss him off, she pulls pranks on the boys, and wants to have pillow fight with the girls. She gets caught up in drama that she is not aware of, poor Waka.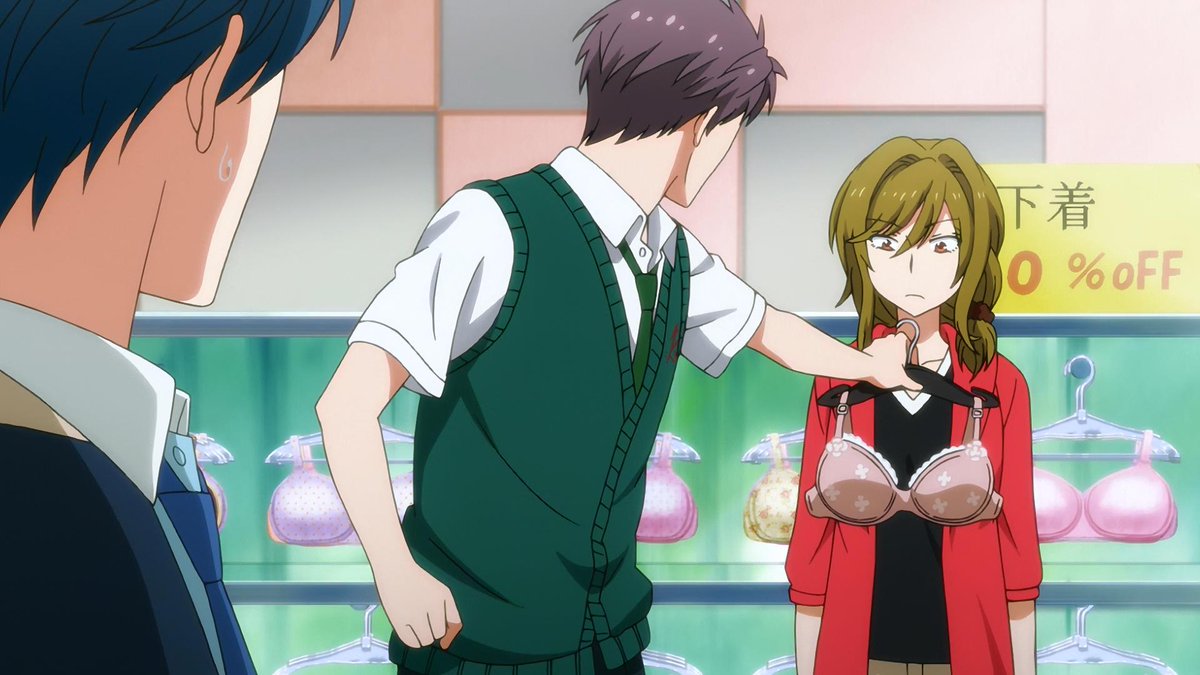 -Verdict-
Will I watch it again? Already have couple of times. Since it's so short, it is good for light viewing.
Do I recommend? Yes. If you already like the main series, then this is definitely great addition. If you have not seen the main series, you will probably get most of the jokes, just need to know Kashima is a girl.
-Final Thoughts-
If you read the main series review I did, you already know how I feel about the series in general, I love it. I am a little confused as though why they did it the way they did. If you follow the manga, you know there are more beach events that happen after the events of the OVA. Will those parts be in season 2? Will there be more OVAs to come in the future? Or are those parts cut for the TV series? For its worth, I hope we get to see them as any Nozaki is good anime.
I hope you liked this shorter OVA review!
Gihoon