Yukimitsu Manabu is a character from one of my favorites, Eyeshield 21. He is a Receiver for the protagonist's team, the Deimon Devil Bats. He is nerd in the every sense of the word but wants to improve himself by joining the football team.
History
Yukimitsu is a junior at Deimon High School, meaning this year was the last chance for him to enjoy club activities as Deimon does not do clubs for seniors. This instantly puts him on the same risk as Hiruma and Kurita as this is his last chance to win the Christmas Bowl.
He has an overbearing mother who seems like very stereotypical Asian mother that wants the child to focus only on studying. And Yukimitsu had enough of that. But Yukimitsu is still scared of his mother so he joined the Devil Bats without her knowing. Although this is revealed later in the story.
Skills
When it comes to physical prowress, Yukimitsu is pathetic in all accounts. He is slow, clusy, weak, and lack stamina. He is not made to be an athelete. However, his superb intelligence and determination to carry out a task makes him a perfect companion to his captain Hiruma Yoiichi.
Eyeshield 21 is a series that rewards hardwork, but does not acknowledge it as success, and as brutal as that is, I love that aspect. In that respect, Yukimitsu is a king of determination and hard work, but this does not make it up for his low physical abilities. Yukimitsu's story is not about how great his athlete he is, but about how he became an athlete. His has so many weaknesses, but he overcame them in his own way.
Awesome Moments
Yukimitsu's debut match was against the Shinryuji Naga, the most powerful team in the league. When the Nagas saw him, they weren't sure whether or not the Devil Bats were joking. To test him out they had Ikkyu, the greatest Cornerback in Japanese high schools, mark him. And when Ikkyu confirmed that Yukimitsu was physically unexceptional, the Nagas decided to ignore him, and then…. Yukimitsu gets a fcking TOUCHDOWN!!!!! And this is against Ikkyu AND Agon. And this officially makes Yukimitsu a threat and another fang of the Devil Bat.
I keep bringing this part up, but he was so awesome when he was playing against the Ojo White Knights. And how he pushed Shin into HIS OWN END ZONE to buy another play. This cemented Yukimitsu as the third brain the Devil Bats desperately need.
Final Thoughts
He was a bench warmer for most of the series but Hiruma saw potential in him, potential to become a dangerous weapon only Yukimitsu is able to become. During the Ojo match, Hiruma talks about how the Devil Bats are out of "Ace in Sleeve" as Yukimitsu was the last one. Yukimitsu went from barely standing to a team's crucial attack.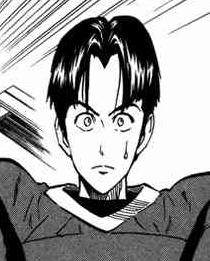 If you can't tell, I love this character. He is a character whose development took almost half the series to do, and it paid off so well in the most crucial part of the story. Of the so many great characters in Eyeshield 21, I think he was one of the best and subtly developed character. If I had to choose my top 10 favorite characters from the series, he would have to be up there.
I hope you liked this one,
Gihoon