Heart of Stone is the first big DLC or as some say expansion to the Witcher 3. While it does not add any new regions, it adds missions, stories, enemies, and whole lot more. Heart of Stone was released in October of 2015, about a half a year after the release of the Witcher 3. Heart of Stone is once again made by CD Projekt Red.
Characters
Obviously Geralt of Rivia is the protagonist, but he looks tad different. He has this Mass Effect looking markings on his face. After a series of events which I will not say, Geralt is magical branded until he pays his debt by doing somethings for shady characters, thus truly starting the events of Heart of Stone.
Olgierd Von Everec is this hipster looking, highly educated, possibly worshipped nobleman that giver Geralt a contract to kill the monster in the sewers. And as you know it, it does not go smoothly. Unlike his followers, Olgierd is educated, artistic, and very cunning.
Shani makes a return!! Those of you who don't know, the last time we see of Shani was during the events of the Witcher 1. At the time she had a major crush on Geralt, it was rather cute, and she was one of the major romantic partners, rivalling Triss. She is a doctor and combat medic with a heart of gold. She wants to save everyone, and Geralt, not wanting her to hurt herself, told Shani multiple times her goal is impossible as so many wars are battles go on.
Gaunter O'Dimm aka Master Mirror. Remember the guy that helped Geralt in White Orchard in the main third game? You know, the guy that was in the beginning of the game, very cheerful fellow, who told Geralt where to find Yennefer? Yeah, that is him.
Story
In one part of the main quest, Geralt comes in contact with people who look like the Wildling from Game of Throne, and eventually meet their leader, Olgierd Von Everec. And Olgierd gives Geralt a contract in which Geralt goes into the sewers to kills a beast. And turns out, the beast is some cursed prince, seemingly from India. And now Geralt is in a whole new shit hole. One thing leads to another, and we see Geralt making a deal with the devil to dig himself out of this mess.
Gameplay
Game play wise, this new Runecrafting system was introduced. It acts similar to adding runes onto your armor and weapons, but different. Instead of having a few smaller effects on a weapon, you more or less have 1 strong one. For example, I used to have Quen boosts on my armor, but I replaced it with ability to reflect 30% of damage back to the assailant depending on luck. Although I lost the Quen boost, seeing purple lightning shocking the guy who just hit was great to watch. Some of the other effects I remember is to have people affected with Igni being blown up at death and extending the area of effect for Whirl and Rend. Some say it's worth it, but most don't. I don't regret teh lightning thing though.
the Bad
The Runecrafting system is…. just kind of there. To unlock all accessible abilities of Runecrafting, you have to invest a lot of money (in game money, not real money) into the vendor. And I honestly can't say the payoff is worth it. I am using a Runecraft because I paid so much money for it…. I am not sure how to feel about this.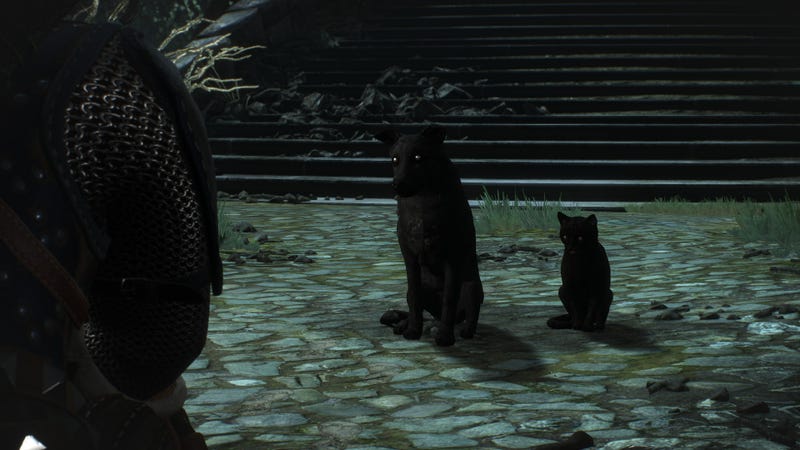 The graphics of this game is insane, so when they are not insane, they stand out. There are these … cat and dog that help out Geralt, and their models looked surprisingly not great. While Geralt looks fantastic, they did not. Minor concern, but enough to be noticed.
the Good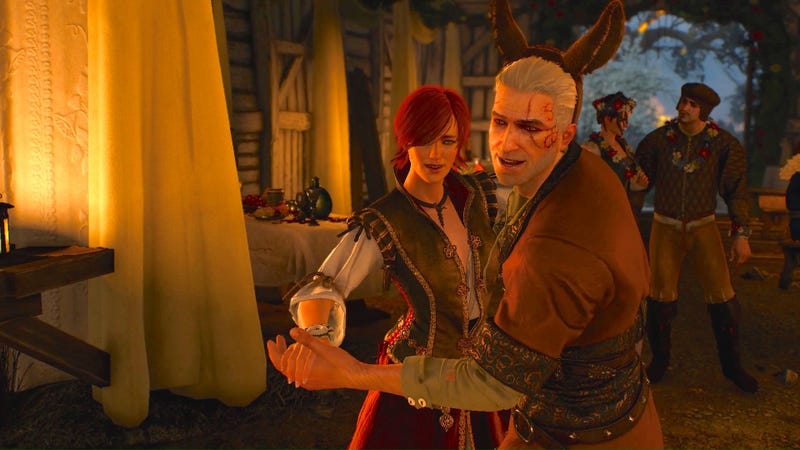 I thought this was going to add maybe one or two missions, but it adds so much more content! You have to fight a monster in sewers, go to an auction house, show a ghost a good time, go on dates with Shani, go into a haunted house, and so on. There is a lot of content.
The atmosphere of the new content are great. In the aforementioned haunted house, things do get quite creepy, at least more than anything in the main game. Parts of the this section was very Silent Hill-esque in that it is too quite and you know there is something definitely wrong. Sure, it's not a horror game scary, but much more than anything from the main game.
The story is great. There were a lot of moments here where I thought to myself "I know where this is going," and I was pleasantly proved wrong. Olgierd is surprisingly likable character. He first came off as hipster gangster dick, and by the end of the content you feel really bad for him. You find out his past, things he's done, things he sacrificed, things he turned away, and now he is relying on you to have a future.
Meanwhile, the other character, Gaunter O'Dimm is menacing as fuck, but he is so polite and articulated, so pretty much the Jew Hunter. And his appearance is limited, making him much more mysterious, he even spooks Geralt. I can confidently say Gaunter O'Dimm was much more interesting villain than Eredin was. 
Verdict
Will I play it again? If I am restarting the whole Witcher 3 experience, yes. But right now, I still have to try the next expansion.
Do I recommend it? YES! If you are already liking the Witcher 3, this is more of great story and missions to play.
Final Thoughts
Knowing CD Projekt Red's love for this franchise, I knew that DLC would be something more than couple of extra armors and missions, but I still did not expect to get this much out of it. I loved playing this DLC, and it is one of the best DLCs I've played.
The Heart of Stone added another 20 hours into Witcher 3 for me. The story was great, the enemies were very challenging, and the events that happened in the game were both hilarious and terrifying. If you like the Witcher series and want to see Geralt not chasing the Wild Hunt, this is a great deal. As a lot of people say, CD Porjekt Red made a game and called it a DLC.
Now I get to move on the Blood and Wine, which I hear is fantastic.
Gihoon