Tsurezure Children is an anime adaptation of manga of the same name written by Wakabayashi Toshiya. It was adapted to anime by Studio Gokumi and ran from July to September of 2017.
Characters
This show has a craptillion main characters, so here are just some of the main characters.
Takase Haruhiko and Kanda Saki is a couple that the two have a crush on each other but cannot get break in getting their feelings across.
Uchimura Chiaki and Iijima Kana are a couple that forms the comedy duo. Both wants to take it to the next level but has no idea how.
Furuya Jun and Minagawa Yuki is a couple where the girl is really straight forward with her feelings and the guy has no idea how to react.
Story
Do you like rom com? Well here are a bunch. Tsurezure Children is about bunch of high school kids discovering love at their own pace. Some get in the groove alright, and many struggle. As this is a slice of life, there is no real plot.
the Bad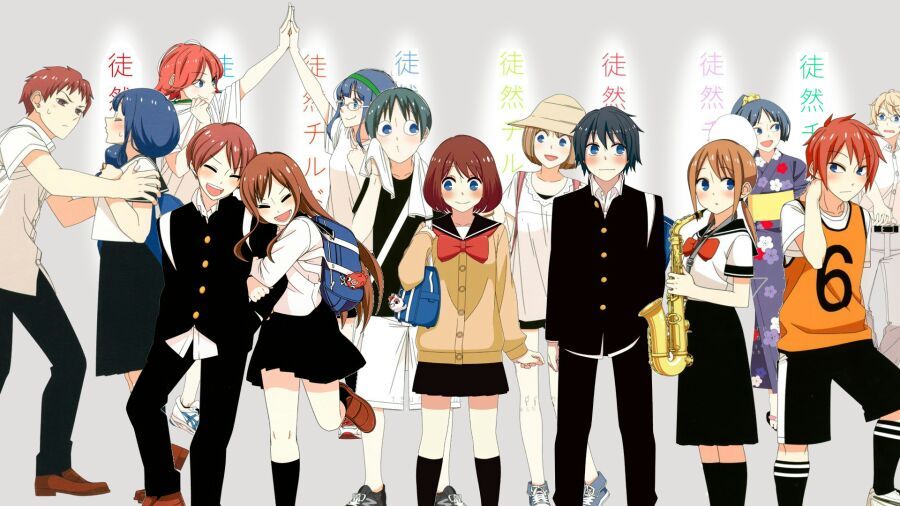 There are way too many characters. I like most of them, but it gets so hard to keep track of who's who. Especially when some of the characters look alike, mainly the guys. I think what makes it hard to keep track is that so many characters are constantly being introduced, if there is little bit more time between introductions, this might be a little easier.
This might be hypocritical, but I was sad to see some characters cut from the manga. Like Himemiya, the crazy girl stalker. Or the chubby girl who wants to be skinny, but the boy she likes is into thicc girls. Or the guy who likes to rap meets girl who likes to rap. And the masked guitarist and the band leader. And so on. If the show was full 24 minutes instead the short 15 minute-ish, maybe more characterization could have been given for each character and make introducing characters little easier.
the Good
What makes Tsurezure Children good is that it is more of an anthology of the best parts of a romantic comedy, it omits the bullshit that usually comes with this genre. By following a crap ton of main characters, we only see the best parts of the story and don't have to stick around too much for the more annoying parts.
Needless to say, this anime is really cute. Different couples have different dynamics but all of them come out adorable.
And this diversity is really what makes Tsurezure Children different from other romances. There are so many types of characters I think you have to at least like one of them. There are couples not yet formed, there are couples recently formed, and couples that have been a thing for awhile.
Verdict
Will I see it again? Probably not, mainly because I have the mangas, it is just easier to read than rewatch for me.
Do I recommend it? Yes, if you like romance and comedy but don't have too much time, this might be a perfect match. Episodes are short, and you only see the good parts.
Final Thoughts
At first I was taken a back by just how many characters were being thrown at my face. Then I realized that this was an anthology rather than the usual. This feels like watching several rom-coms at the same time, and it was not bad. I am reading the manga now, so when that is done, I might talk about this series again.
Have you checked this out? What did you think?
Gihoon